Psalm 4:8-9 (Hebrew verse numbering for the English vv. 7-8) bring us to the end of the body of this Davidic psalm. These two verses display a good deal of emphasis by means of literary devices, grammatical structure, and vocabulary. Thus, the psalm ends with a burst of emotion and truths that seal its message on the hearts of David's hearers and readers.
Watch for the final installment in our analysis of Psalm 4 in which we will examine the musical subscription, identify the psalm's structure, provide a summary of exegetical and theological comments, and suggest homiletical propositions.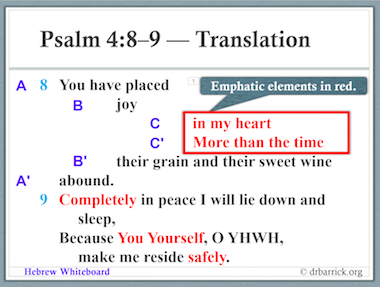 Click on Hebrew Whiteboard to download Psalm 4:1-9 or any of the previous studies of Psalms 1-3 and 120-122.