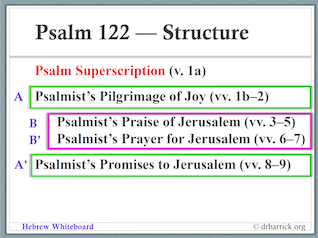 How delightful to study the Word of God, to analyze a psalm in detail, and to meditate upon its implications for my own life. Verses 8-9 conclude Psalm 122 and focus upon David's purposes or promises for the inhabitants of Jerusalem, for his people, and for the "house of YHWH," the Tabernacle. The theme of "peace" occurs yet again (the word's third use in the psalm) and "good" makes its appearance as the practical outworking of David's commitment to Jerusalem and all who go there in pilgrimage to worship the Lord.
Those who downloaded the earlier verses will find a few revisions here and there for the sake of accuracy. May you enjoy the study of this psalm as much as I have.
Go to Hebrew Whiteboard for this unfolding analysis, as well as for accessing previous Psalms studies.